Rich Hamilton is the author of books and tapes about the Disney business model, including the award-winning *Disney Magic: Business Strategy You Can Use at Work and at Home.* He has a special passion for the Disney business model, and has been studying it since 1986.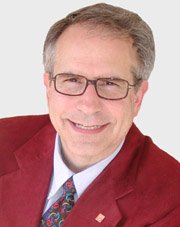 Rich writes and speaks on customer service, selling, leadership, and business strategy.
Rich Hamilton writes on selling, marketing, and advertising. A former broadcast executive and newspaper reporter, Rich also has experience as a professional photographer and a systems analyst. He has trained hundreds of salespeople and helped many businesses with their marketing strategies.
Today, Rich consults and speaks on management skills and business strategies that he found at Disneyland and Walt Disney World.
Rich has the unique ability to see business in ways most people miss.
He has a special passion for the Disney business model, and has been studying it since 1986. Rich delights in discovering new and old business methods in use at Disneyland and Walt Disney World.
"Disneyland is special," Rich maintains. "It's magic to walk the same streets that Walt Disney walked, to see the same buildings, the same attractions, even the same trees… though they've grown a lot in the last 35 years. When I go to Disneyland I try to see things the way Walt would see them, and experience the park as if I was his personally invited guest."
It's said that touring Disneyland with Rich is a real treat, with his special understanding of the structure and history. One business associate said, "Rich pointed out things that I'd never realized were there. We met cast members and visited about things I'd never imagined. I began to look at Disneyland in a whole new, exciting way."
> **And what's the deal with the tortoise?**
> Rich explains:
> "Tortuga is a sweet little tortoise who lives in a garden. She is the subject of a story I tell in some of my presentations about Walt Disney.
>

"The tortoise also exemplifies a profound secret of success. As in the story of 'the tortoise and the hare,' tortoises are very persistent. They may move slowly most of the time, but when they want to go somewhere, you can distract them with food, or move them to a different path. They may stop for a minute to eat the food, but then they head back to their original path, on toward their determined destination.
> "I think we can all learn something from the tortoise, and use it for our own success. I put Tortuga on most of my company's websites, and on brochures, so I never forget the value of persistence and determination."
Rich Hamilton is available for a limited number of speaking engagements each year.
Rich Hamilton Productions and SellBetter Tools have been providing quality consulting, software, and publications since our founding as Richard Hamilton Associates in 1989. It is our mission to work with individuals who want to sell better and with companies who want to naturally and quickly improve sales staff selection, training, and effectiveness.